B SERIES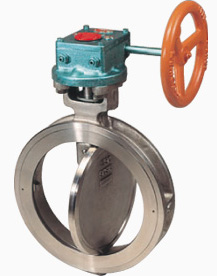 Double eccentric structure, facilitating lightweight, compact form and easy maintenance. This is BF Kogyo's leading product featuring excellent operability and durability.
[Casting Products]
This is a highly innovative valve that achieves both robustness and lightness. It has a double eccentric structure enabling total tightness and low torque. This facilitates greater operability, longer seat life and a major decrease in maintenance as well as high cost performance. It is used in various industries including the chemical, nuclear power, steelmaking and air conditioning sectors.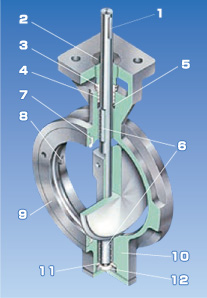 ※Place the image's mouse over!
Key way


It allows easy assembly and disassembly of all types of actuator

Gland follower
Packing gland
Gland packing
Adapter
Upper and lower bearings


The bearings are of Teflon coated stainless steel mesh construction to ensure smooth and reliable shaft movement with balanced contact between disc and seat resulting in lower torque.

Seat
Disc stopper
Seat retainer


Integral with retainer plate. Plate is located by.

Body


Slim wafer pattern for easy mounting between flanges to specification

Thrust ring
Thrust piece
●Teflon seat

Applicable to almost all corrosive fluids thanks to Teflon's anti-corrosive characteristic.
| | |
| --- | --- |
| Size | 80A~300A |
| Working pressure | 0.001torr~1.0MPa |
| Working temperature | -20 ~200℃ |
| Flanges | JIS、ANSI |
| | |
| --- | --- |
| Body | FCD450、SCS13、SCS14、SCS16 |
| Disc | FCD450、SCS13、SUS F304、SCS14、SUS316L、SCS16 |
| Shaft | SUS304、SUS316、SUS316L |
※The materials of the body, disc and shaft can be chosen freely as required.
| | |
| --- | --- |
| Body shell | 1.5MPa |
| Seat | 1.1 MPa |
| | |
| --- | --- |
| NBR | -10 ~80℃ |
| EPDM | -10 ~120℃ |
| VITON | -10 ~150℃ |
| PTFE | -20 ~180℃ |
| METAL | -20 ~200℃ |
Product
Butterfly Valves
Butterfly Damper
Special Valves
Fine Separator
Heaterless Air Dryer
Download