G SERIES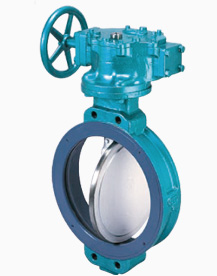 The standard valve for ships. A compact and lightweight butterfl y valve with enhanced tightness and easy operation. It has a double eccentric structure, which eliminates local seat wear and ensures long service life.
[Casting Products]
The standard type of valve for ships. The valve's original features have been preserved, and it now also features a more compact and lighter construction, and its tightness and operability have also been improved. The maximum working pressure is 1.6 MPa. It is also used for general industrial purposes. It has obtained model authorization of various ship classifications such as Lloyd, ABS and NK.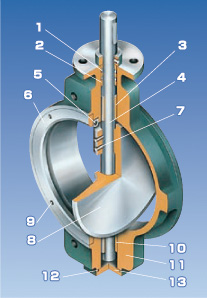 ※Place the image's mouse over!
Gland packing
Thrust block
Upper bearing
Shaft
Seat
Seat retainer
Disc set pins
Disc
Seat retainer bolt
Lower bearing
Body
Bottom cover gasket
Bottom cover
| | |
| --- | --- |
| Size | 80A~1,000A |
| Working pressure | MAX 1.0MPa |
| Flanges | JIS |
| Body materials | FC、SCPH2、SCS13、SCS14、SCS16 |
| Disc materials | SCPH2、SCS13、SCS14、SCS16 |
| Shaft materials | SUS403、SUS431、SUS304、SUS316 |
| | |
| --- | --- |
| Size | 80A~1,000A |
| Working pressure | MAX 1.6MPa |
| Flanges | JIS |
| Body materials | FC、SCPH2、SCS13、SCS14、SCS16 |
| Disc materials | SCPH2、SCS13、SCS14、SCS16 |
| Shaft materials | SUS403、SUS431、SUS304、SUS316 |
| | |
| --- | --- |
| Body shell | 1.5MPa |
| Seat | 1.1 MPa |
| | |
| --- | --- |
| Body shell | 2.4MPa |
| Seat | 1.76 MPa |
| | |
| --- | --- |
| NBR | -10 ~80℃ |
| EPDM | -10 ~120℃ |
| VITON | -10 ~150℃ |
| PTFE | -20 ~180℃ |
| METAL | -20 ~200℃ |
製品一覧
Butterfly Valves
Butterfly Damper
Special Valves
Fine Separator
Heaterless Air Dryer
Download