D SERIES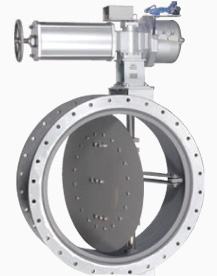 This steel plate shutoff valve features lightweight, low cost and high air-tightness. It gives absolute seal tightness for gases and air from room temperature to ultra high temperatures.
[Casting Products]
This steel plate airtight damper is mainly used as a shutoff valve for high temperature gases (600℃ max.) and gives unrivaled sealing performance. It is used for a wide range of applications including steel works, boiler equipment, fumigation equipment, smoke collector ducts, and solvent recovery.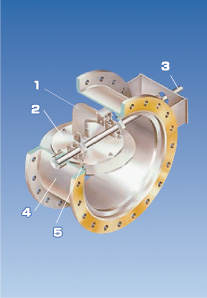 ※Place the image's mouse over!
Guide lever
Disc
Shaft
Body
Seat
The D series tight shutoff damper valve disc rotates and slides simultaneously by turning the shaft 90° thanks to its mechanical structure system.
| | |
| --- | --- |
| Size | 300A~3,000A(Square type is also available) |
| Working pressure | MAX 0.05MPa |
| Working temperature | MAX 600℃ |
| Flange | JJIS、 ANSI、 Special |
| | |
| --- | --- |
| Body | SS400、SUS304、SUS316、SUS316L |
| Disc | SS400、SUS304、SUS316、SUS316L |
| Shaft | SUS304、SUS403、SUS316、SUS316L |
| | |
| --- | --- |
| Body shell | Max. allowable pressure ×1.5 |
| Seat | Max. allowable pressure ×1.1 |
| | |
| --- | --- |
| NBR | MAX 80℃ |
| EPDM | MAX 120℃ |
| VITON | MAX 150℃ |
| PTFE | MAX 200℃ |
| NON A | MAX 600℃ |
| METAL | MAX 600℃ |
製品一覧
Butterfly Valves
Butterfly Damper
Special Valves
Fine Separator
Heaterless Air Dryer
Download