TD SERIES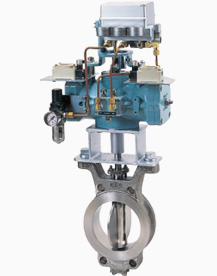 Small size, large volume wafer type butterfly damper. It gives excellent controllability and responds to the needs of a wide range of industries.
[Casting Products]
This wafer type damper is economical, simple and compact. It is used as a control valve in combination with a diaphragm actuator, an air cylinder and a positioner. It gives outstanding controllability from low temperatures to ultra high temperatures.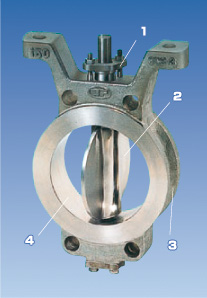 ※Place the image's mouse over!
High range ability
Big reduction in size


The hydrodynamic configuration of the disc keeps the flow resistance at a minimum level when the valve is fully open. This valve has twice the CV of glove valves.

The body is slim, lightweight and compact.
Clearance between body and disc


Although it is a damper type, it has a low leakage structure ( 0.5 to 2% of rated CV). Stable control is effected allowing the fitting of a compact actuator.
We supply two types of gland units for high temperature valves depending on the temperature conditions, as shown on the above.
The high temperature and ultra high temperature types take the expansion of the shaft into consideration, and a vertical (upper and lower) gland system is employed.
In the ultra high temperature type, a stuffing box is also fitted and gland packing is installed.
The above structures have been developed based on many years of operational experience. A totally sealed structure is employed which prevents external leakage from the gland due to the effects of heat.
| | |
| --- | --- |
| Size | 80A~1,000A |
| Working pressure | MAX 1.0MPa |
| Working temperature | MAX 800℃ |
| Flange | JIS、ANSI |
| | |
| --- | --- |
| Body | SCPH、SCS13、SCS14、SCS16 |
| Disc | SCPH、SCS13、SCS14、SCS16 |
| Shaft | SUS304、SUS403、SUS316、SUS316L |
| | |
| --- | --- |
| Body shell | Max. allowable pressure ×1.5 |
製品一覧
Butterfly Valves
Butterfly Damper
Special Valves
Fine Separator
Heaterless Air Dryer
Download