CD SERIES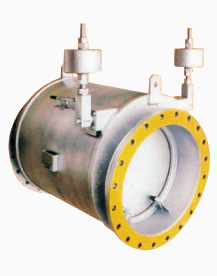 Used extensively in nuclear power plants where very exacting quality control is required.
[Casting Products]
A steel plate damper available with either round or square pipe connection ends. This non-return gravity damper is mainly used in nuclear power facilities for ventilation and air conditioner outlets as well as for transfer. It is equipped with an easily adjustable balance weight to balance the impeller blade gravity and operates reliably on even a slight pressure difference.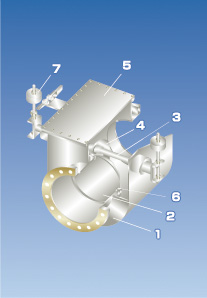 ※Place the image's mouse over!
Flange
Disc
Shaft
Lever
Bonnet
Seat
Counter weight
| | |
| --- | --- |
| Size | 100A~3000A |
| Working pressure | ~0.05MPa |
| Working temperature | ~150℃ |
| Flanges | JIS、ANSI、DIN、AS、BS、Special |
| | |
| --- | --- |
| Body | SS400、SUS304、SUS316、SUS316L |
| Disc | SS400、SUS304、SUS316、SUS316L |
| Shaft | SUS403、SUS304、SUS316、SUS316L |
| | |
| --- | --- |
| Body shell | Fluid pressure×1.5 |
Product
Butterfly Valves
Butterfly Damper
Special Valves
Fine Separator
Heaterless Air Dryer
Download