E SERIES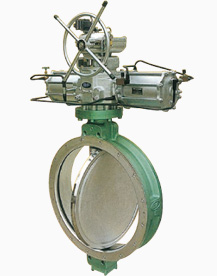 High performance tight shutoff butterfl y valve. Light duty type developed for medium and low-pressure use.
[Casting Products]
A light duty type tight shutoff butterfly valve used for tap water, building air conditioning, gas, chemicals, and waste disposal facilities. As it is a low torque type, it also gives excellent performance for air and gas lines.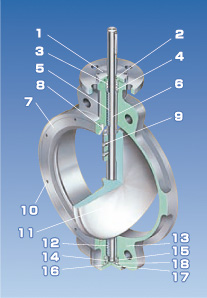 ※Place the image's mouse over!
Gland bush
O-Ring
Gland packing
Adapter
Upper bearing
Shaft
Seat retainer
Seat
Disc set pins
Disc
Seat retainer bolt
Lower bearing
Body
Thrust block
Block set pin
Bottom cover gasket
Bottom cover
Thrust bearing
●Teflon Seats

These high performance seats work well with a wide range of fluids (especially corrosive fluids).
Size
350A~1,000A
Working pressure
0.5MPa(350A~ 600A)
0.3MPa(650A~1,000A)
Working temperature
-20 ~200℃
Flanges
JIS、DIN、ANSI、AS、BS
| | |
| --- | --- |
| Body | FC200、FCD450、SCS13、SCS14、SCS16 |
| Disc | FC200、FCD450、SCS13、SCS14、SCS16 |
| Shaft | SUS403、SUS304、SUS316、SUS316L |
※The materials of the body, disc and shaft can be chosen freely as required.
| | |
| --- | --- |
| Body shell | 1.5MPa |
| Seat | 0.75 MPa |
| | |
| --- | --- |
| NBR | -10 ~80℃ |
| EPDM | -10 ~120℃ |
| VITON | -10 ~150℃ |
| PTFE | -20 ~180℃ |
| METAL | -20 ~200℃ |
Product
Butterfly Valves
Butterfly Damper
Special Valves
Fine Separator
Heaterless Air Dryer
Download