SRp SERIES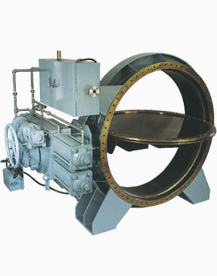 Steel welded perfectly tight closure valve featuring large size, lightweight, short delivery time and low cost. It is suitable for the control of large volumes of air, gases and water.
[Casting Products]
A valve made of steel plate corresponding to all flange standards. Face to face dimensions can be made to user specifications. It is particularly suitable for lines requiring large size valves such as those for waste gas in steel mills, heat ventilation air conditioning in power stations, and solvent recovery in chemical plants.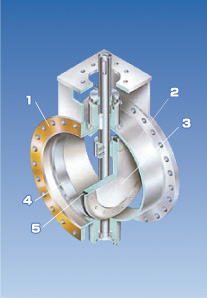 ※Place the image's mouse over!
Flanges
Body
Disc
Body seat(SUS)
Disc seat
● Tight shut off seat construction
Disc seat‐jointless seat rings.
Disc seat‐exposed by tightening and contracted when bolts loosen.
Seat contact width‐"T", can be fine adjusted in position by tightening or loosing the retainer bolts.
Variation to form the most suitable contact width to meet present flow pressure without unnatural friction, but keeping perfect sealing and torque for longer lasting sealline.

※In occasion of replacing disc seat, it can be easily replaced without removing valve itself from the pipe line.
Size
650A~3,000A
Working pressure
MAX 0.05MPa
(Special MAX 0.5MPa)
Flanges
ANSI 、BS、AS、DIN、JIS、Special
| | |
| --- | --- |
| Body | :SS400、SUS304、SUS316、SUS316L |
| Disc | SS400、SUS304、SUS316、SUS316L |
| Shaft | SUS403、SUS304、SUS316、SUS316L |
| | |
| --- | --- |
| Body shell | Max. allowable pressure×1.5 |
| Seat | Max. allowable pressure×1.1 |
※The materials of the body, disc and shaft can be chosen freely as required.
| | |
| --- | --- |
| NBR | -10 ~80℃ |
| EPDM | -10 ~120℃ |
| VITON | -10 ~150℃ |
| PTFE | -20 ~180℃ |
製品一覧
Butterfly Valves
Butterfly Damper
Special Valves
Fine Separator
Heaterless Air Dryer
Download